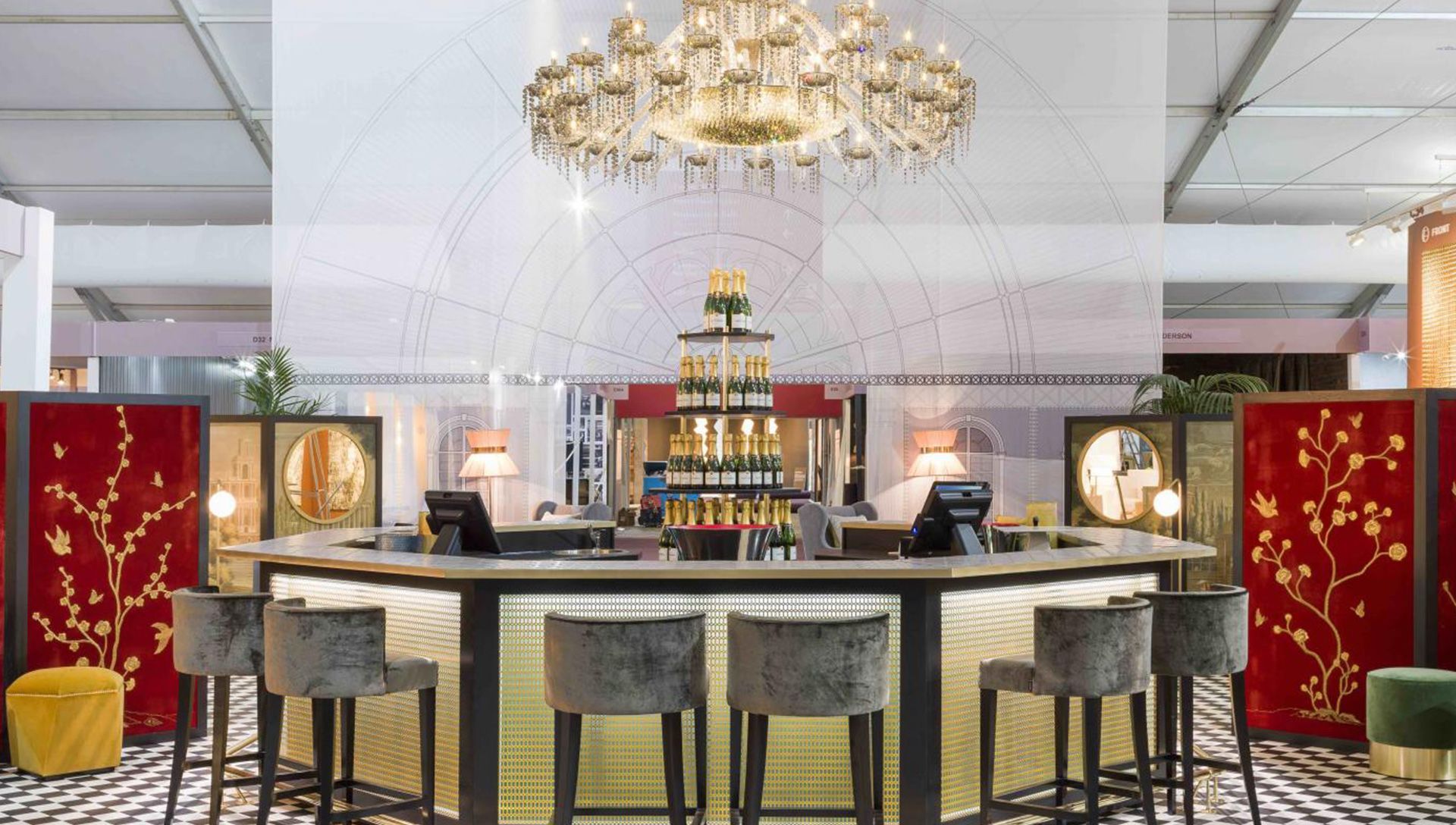 Arguably the most important design show in the UK can be found at Decorex. Syon Park, London.
The show runs from September 16th to 19th and is open to industry professionals and the general public for the last 2 days.
There is always a keynote exhibition at the entrance to provoke and stimulate discussion by leading interior design practitioners and this year is no exception.
The theme is Blank Canvas and it explores the paths four designers have taken to achieve their entrance displays.The featured designers are Maddux Creative,Brian Woulfe,Henry Prideaux and Studio Suss.
Show exhibitors range from the very well established like V&A Interiors to innovative newcomers Jennifer Manners Design.
As with all trade shows exhibitors are keen to promote new products and renew old contacts.
This year UK Heritage Rugs are privileged to be part of the V&A Interiors stand which can be found at H40.
The display will be a collaboration of five of the V&A's key home lines, featuring furnishing fabrics from Arley House, wall and floor tiles from British Ceramic Tile, furniture from Sofa Workshop, interior decoration from Surface View, and rugs from UK Heritage Rugs. The cohesive display at Decorex International will bring together delicate botanical prints and bold geometric lines, emulating the spectrum of design styles from the incredible V&A archives.
Several new launches will be debuted at the show, including two new designs from UK Heritage Rugs. The first draws from the famous Art Deco designer, Marion Dorn, and is characterised by the period's geometric shapes and bold use of colour. Dorn was commissioned by many luxury hotels of the period including the Berkeley, London Savoy and Claridges. The new design features a geometric pattern with embossed lines of wool on an extravagant silk ground.
Our paths crossed some years ago when my design company was asked by English Heritage to replicate the exact knotting of the famous Marion Dorn circular rug that can be found at Eltham Palace.
The original rug can now be found within the V&A but is not at present in public view.
This was a daunting and meticulous task that required extremely accurate mapping of every handtied knot in the original.The knot rate was relatively low at 16 knots per square inch as the yarn was a bulky pure wool composition.The pile length was around 25mm which gave a very deep and luxurious feel.
After many weeks the mapping was complete and included any errors made in the original weaving.
Donegal Carpets of Ireland were chosen to recreate this fine piece as they were renowned for handknotted rugs during the Art Deco and Arts and Crafts period.
After careful dyeing to match the original, weaving began using identical weaving techniques.It soon became clear that the sheer weight of yarn was becoming problematic and the beam upon which the rug was wound began to visibly sag. After reinforcement the rug was eventually woven,finished and laid at Eltham Palace saving the original from further deterioration.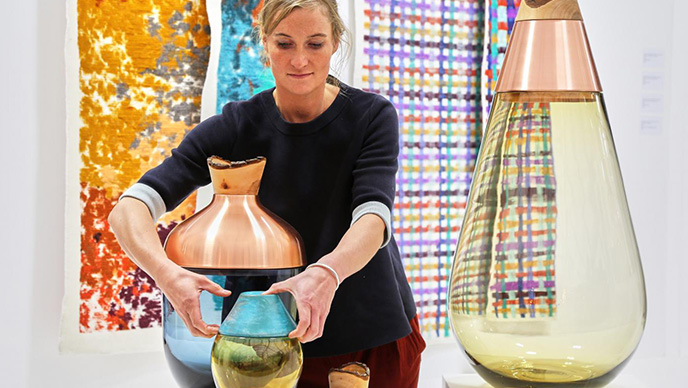 Image: © Future Heritage Stand at Decorex 2017
Still influenced by the one of the greatest art movements of the 20th century, our second rug from the V&A archives is also in the Art Deco style. Inspired by an eye-catching design in the collection by Walpole Champneys (1879–1961), we've created a rug with lustrous silk motifs on a wool ground based. The designer and colourist was commissioned by notable architects in the Deco era to design interior schemes, notably the iconic Sunshine café and cinema entrance foyer at Dreamland, Margate.It is available in 5 colourways and is part of the V&A Bespoke Collection.
Decorex always delivers a series of stimulating talks from industry leaders that are actually highly relevant to the moment and are given by working designers.
This year is no exception with a Day 1 highlight conversation between Hatta Byng,Editor of House and Garden magazine, and Beata Heuman Interior designer of the Year.
Day 2 culminates in a discussion focussing on the contentious impact of social media on the relationship between client and designer.
Day 3 has to be the legend Tricia Guild in conversation with Ben Spriggs of Elle Decoration and her love of colour and pattern.
Day 4 has a lively discussion on the day to day problems and solutions to running your own design business.A must for all designers starting their own practice.
Renew your energies and clear your mind with a visit to the Lambart and Browne designed Bar area.Always diverting and refreshing,in so many ways,the Decorex bar this year has evolved away from the champagne bar of the past and now features a selection of botanically infused drinks alongside more traditional offerings.This years design features a tent like structure with rope wrapped pillars supporting a sailcloth ceiling. Definitely worth a visit even if just to spot the designer.
Before you leave the show allow yourself time to enjoy the newest makings on the Future Heritage stand.
Always different and original,this stand showcases a carefully curated selection of craft to collect and commission. Corinne Julius selects the designers and makers that represent the pinnacle of contemporary making.You will almost certainly disagree with some selections and love others.
I am particularly looking forward to the new work by Glitheroe .They are launching a collection of botanical tiles and rugs that are sure to be fascinating.
Come and say hello at V&A Interiors.
Article image: © Champagne Bar by Shalini Misra at Decorex 2018